The Only 3 Rooms that Matter for Re-selling
Well the name should tell you everything that you need to know. We all know that the 3 most important rules in Real Estate are Location, Location, and Location.
After that what are the other aspects of the Real Estate market that can allow you to get the most value out of your home and property? Before we do a listing we should all ask ourselves "How am I going to maximize my property?" and "What are my most marketable rooms in the house?"
The three most important rooms in your house are The Kitchen, The Master Bed and Bath and The Living Room. The reason being is that these are the rooms that you spend the most time in. If you are thinking about putting your house out on the market you need to make sure you that these three main rooms comply with our MUST HAVE checklist below. If they do not then you should ask yourself "Am I really going to get the most value out of my home"
The Kitchen:
Houzz
To get max value out of your kitchen make sure that it has the following:
Gas Stove Top
Appliances that are less than 5 years old
Granite Counter Tops
Built in Microwave
Multiple Ovens
Separate Fridge and Freezer
A Good Sized Pantry
A new Dishwasher
Wood Cabinets
An Island Area for Food Prep
If you don't have all of these things, don't worry. We are still going help you maximize everything that you have. This is a wish list and very few people get everything on their wish list. The one thing for this room that helps makes it marketable is cleanliness. Above all, your kitchen should always be spotless. If your counters and appliances are spotless you are more likely to entice someone because they think things will be maintained and will continue to work after they purchase the house. The Fridge and freezer especially.
A gas stop top is something that is always nice to see because people who really take a hobby in cooking like to a more even flame when cooking. Again this is not essential and can be something overlooked, but it always helps. Depending on the size of your kitchen you may have two ovens. If you live in a modest home then this is not something that your kitchen is expected to have so don't sweat it.
However, having a built in microwave is something now that does help increase the value. No one likes taking valuable counter space for a microwave.
The Living Room: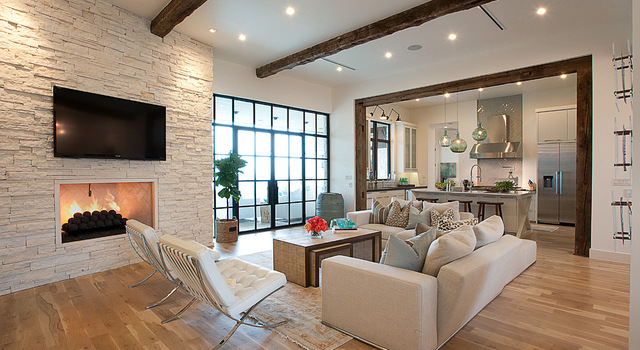 Houzz
What buyers are looking for in a living room include:
High Ceilings
Marble or Wooden Floors
Built in Sound Systems
Large Windows
A Fireplace (optional depending on region)
Large Square Footage (in relation to the rest of the house)
This room is a big one because this is generally the room that you will spend most of your time in. Whether it is to socialize with friends, relaxing after a hard days work or creating memories with your family. Having a nice living is critical to the sale of your home.
High ceilings are the number one item that potential buyers like to see. They do not want to feel claustrophobic in their own home. Unfortunately this is one item that is very hard to correct. Either your home was built with it or it wasn't.
Having natural light also is very good because it allows for a naturally bright room that can eventually save on electric. It provides a very homey feel. The rest of the items are really just additional things that buyers like to see, but they are never game changers. They do help though.
The one trend that I would like address in relation to living rooms is the "open floor plan." This is a very trendy item in real estate because it does make the home seem bigger than it actually is. Some buyers are looking for this feel, but I will tell you it does not always work to their benefit. You get very little privacy in an open floor plan and very little noise shelter. Some people will make it a make or break item on their wish list, but it is not something that we consider it to be so valuable to help the sale of your home.
The Master Bed and Bath:
Houzz
The last room that really makes the value of your home go up is the master bed and bath. It should include:
A Separate Bath and Shower
Dual Sinks
Wood Floors or Brand New Carpet
Large Windows
A Vanity Area
Walk-in Closet
We might be getting a bit picky here, but this is what homebuyers are searching for. There needs to be room for both him and her. Have you ever tried to get ready for work in the morning sharing a sink, let me tell you, it's a nightmare. Having these things really lets you have some space to share and call your own.
People do spend so much time in their bedrooms and you want to make it feel as though you can share it and still have your space. It is never good when things are overflowing or you feel that you can't get away from someone who is using the bathroom.
Having wood or new carpet is a must for the resale of your house. Wood is very easy to clean but it can be cold in the morning. When purchasing a new house you don't want someone else's carpet. I mean lets think about it, you have no idea what has gone on in that house or what is in the carpet. Please get it changed and it will increase the sale value of your home.
Well now you know what the main features for the 3 most marketable rooms in your home are. Please make sure you listen and try and match your home with as many as these as possible to ensure you get the most out of your property.